Main page / "Knowledge. Understanding. Skill" Journal / Contents / 2017 / No. 4

Contents №4 2017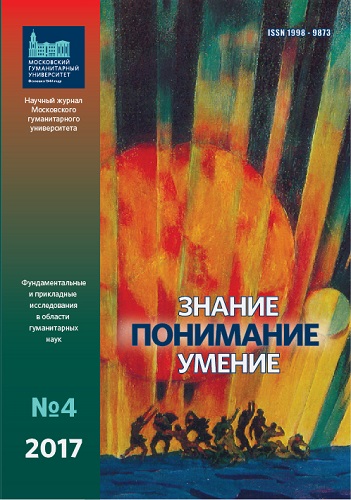 RUSSIAN SOCIETY
Ilinskiy I. M. Speech at the International Bunin Award 2017 Opening Gala
EDUCATION AND AN EDUCATED PERSON IN THE 21ST CENTURY
Kozharinova A. R. We Need a New Enlightenment
Prokhoda V. A. The Involvement of the Residents of European States in the Supplementary Vocational Education
Inkizhekova M. S. The Categories of "National Identity" and "Patriotism" in Modern Educational Space
Koryagina I. I., Zhukolina M. V. Assessment of the Quality of Educational Activity as an Embodiment of the Philosophy of Quality Postulates
PHILOSOPHY AND MODERNITY
Fedotova V. G. Globalisation and Modernization: the Culture Factor
Fedotova N. N. Culture as a Resource of Social Development: Theoretical Discussions and Russia's Experience
Kostina A. V. Modern Language: "Culture Receptacle" or a Form of Sociocultural Adaptation?
Flier А. Ya. Interpretation of the Meaning of History: Event as a Cultural Artifact
Khorina G. P. October 1917: The Ideology of the Revolution
PROBLEMS OF BIOETHICS
Lukov V. A. Human Enhancement Projects: What Do Russian Young People Think of the Need for Them and of Their Consequences?
Dolin V. A. Trans-Humanistic Perceptions of a Human Being in Contemporary Anthropological Discourse
PROBLEMS OF CULTUROLOGY
Kasatkin P. I. Cultural Space: the Axiological Dimension
Mikhailova L. V. Semiotic Space of the Russian North Culture
SOCIOLOGY AND LIFE
Yavon S. V., Kudryavtseva K. A. Family and Marital Relations in the Samara Region and the Republic of Tatarstan
STATE AND CIVIL SOCIETY: POLITICS, ECONOMICS, LAW
Krylova I. A. Internal Threats to the Economic Security of the Russian State
Korotkov P. A., Matveeva O. A., Ryzhakova O. E., Zagaynova E. A. Relevance of the Quantitative Assessment of the Quality of Direct Interaction between Citizens and Authorities
THE THESAURUS APPROACH IN HUMANITIES KNOWLEDGE
Kuznetsova T. F. Cultural Constants and the Ecology of Culture
PROBLEMS OF PEDAGOGY AND PSYCHOLOGY
Ponomaryova E. G. Organization of Research Work of Students of Political science (methodological guidelines)
Rodin A. B., Lyudmirskaya I. D., Kazakova I. V. Using the Method of Problem-Based Learning in Teaching Theoretical Linguistic Disciplines
SHAKESPEARE STUDIES
Mikeladze N. E. Hell-Porter Scene in "Macbeth" in the Light of Dante's "Inferno" and English Mystery Plays
Makarov V. S., Pervushina E. A., Florova V. S., Haltrin-Khalturina E. V. The First Edition of W. Shakespeare's Sonnets in the Academic Series "Literary Monuments"
PROBLEMS OF PHILOLOGY AND ART STUDIES
Glushchenko N. D. Discovering Russia: The Books of William Brumfield about Russian Architecture
BUNIN PRIZE
The International Bunin Prize in Literature 2017 (prepared by N. V. Zakharov)
RESEARCH POTENTIAL: WORKS OF YOUNG SCHOLARS
Mantorova A. V. Professional Designer Community: Features of Constructing
Khloponina O. O. The "Female World" in the Soviet Poster Art of the 1900–1930s: The Evolution of Mythological Constructions
ACADEMIC LIFE
Lamazhaa Ch. K. Russian Philosophical Journals and the Matters of Modern Scientific Periodicals
EDITORIAL COUNCIL AND EDITORIAL BOARD OF "KNOWLEDGE. UNDERSTANDING. SKILL" JOURNAL
CONTENTS IN RUSSIAN