Main page / "Knowledge. Understanding. Skill" Journal / Contents / 2009 / No 2

Contents № 2 2009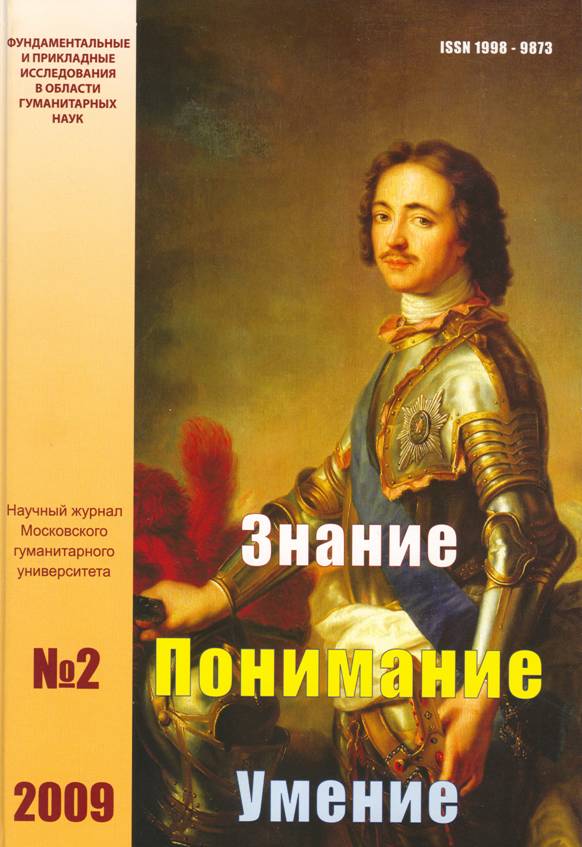 WAR AND PEACE
Ilinskiy I. M. Why Should We Recollect the War?
EDUCATION AND AN EDUCATED PERSON IN THE XXI CENTURY
Ursul A. D. Educational Revolution of the XXI century in the Long Term Sustainable Future (the continuation)
Golionova J. A. The Prerequisites of the Distance Learning Appearance in the Global Educational Space
CULTURAL POLICY
Zhukova O. A. Cultural Identity, Cultural Heritage and Cultural Policy of Russia
Kostina A .V. Features of Cultural Construction in the Soviet Russia of the 1920–30s: On the Subject Aspect in History
Mironova T. N. Preservation of Cultural and Natural Heritage as the Main Feature of Cultural Policy of the European Region Countries: Italy
Moshniaga P. A. Specificity of Japanese Cultural Politics under Conditions of Globalization
NEW GENERATIONS
Lukov Val. A. Theories of Youth: An Apology of Their Inexhaustibility
Sitarov V. A., Shutenko A. I., Shutenko E. N. Psychological Features of Socio and Cultural Aspect of Students
Potanina L. T. Imaginary and Symbolic Language as a Mean of Schoolchild's Value System Development
THE HUMANITIES: THEORY AND METHODOLOGY
Vasiliev Yu. A. On Methodological Bases of the Russian Historical School: Historiosophical Aspects. Part II
Gorelov A. A., Gorelova T. A. The Conception of Passionarity and the Problem of Meaning of Life (the ending)
Krivoruchenko V. K. On Quantitative Methods in Historical Investigations
Eremenko I. V., Shendrik A. I. Specificity of Culturological Method as a Reflection of the Specific Character of Culturological Knowledge
SOCIOLOGY AND LIFE
Agranat D. L. Stages of Person's Socialization in a Militarized Organization
Vikulova S. K. Social and Technological Approach to the Communication with Population in the Form of Municipal Government
Lamazhaa Ch. K. Social Archaization of Post-Soviet Tuva
PROBLEMS OF PHILOLOGY, CULTUROLOGY AND ART CRITICISM
Zakharov N. V. The Process of Shakespearization in the Russian Literature at the Turn of the XVIII–XIХ Centuries: the Example of M. N. Muravyov
Nosov S. O. Dramatic Space as Provocation for Dialogue ("The Swan Song" by A. P. Chekhov)
Raskina E. Yu. Geosophical Aspects in N. S. Gumilev's Oeuvre
Puzyrnikova E. Yu. Th. Mann's Novel "Doctor Faustus" in the Soviet Literary Studies: the Problem of Genre Definition
Oshchepkov A. R. Russia in the Th. Gautier's Book "A Trip to Russia"
Komarov S. G. Edward Bond's Play "Summer" in the Context of the Bible Archetypes
Gladilin N. V. "Female version" of history in the novel "The Flounder" by G. Grass
Kabanov A. A. The Androgyne Icon in the Decadence Art
Khvastova V. V. Interactive Context of Denotation of Verbal Interaction in Semantic Organization of Dialogue
THE RUSSIAN WORLD
Svalov A. N. N. V. Stankevich: "Human Being Is Higher Than Anything…"
HUMANITARIAN EXPERT EXAMINATION
Ivanov А. V. Expert Judgment of Innovation Potential of the System of Rehabilitation of the Disabled People
Drepa M. I. Internet Dependence as an Object of Scientific Reflection in Contemporary Psychology
PROBLEMS OF UNDERSTANDING
Seliverstova N. A. M. Bulgakov's Novel "The Master and Margarita" in Students' Interpretation (Analysis of Readers' Diaries)
Spirova E. M. Functions of Symbol
Golenok G. V. The Phenomenon of Daily Routine in Culture
THE IMAGE OF SCIENTIST (CREATIVE PORTRAITS)
Abdusalam Abdulkerimovich Guseinov: Consumer Society — Pro et Contra. An Interview with Academician A. A. Guseinov (interviewer — O. M. Zinovieva)
MONITORING
Skachkova T. A. Political Myths in Perception of Russian Students
SCIENTIFIC POTENTIAL (WORKS OF THE YOUNG SCIENTISTS)
Gaydin B. N. Eternal Images in the System of Constants of Culture
Zharinov S. E. The Influence of the Hermetic Tradition on Newton's Scientific Views
ENCYCLOPAEDIA OF THE HUMANITIES
Winged Words (Vl. A. Lukov, Val. A. Lukov)
Characterology (G. Yu. Kanarsh)
SCIENTIFIC LIFE
Fursov A. I. Eurasian Giants Russia and China in the Modern World: Problems, Contradictions, Prospects (review of the reports and speeches)