Main page / "Knowledge. Understanding. Skill" Journal / Contents / 2009 / No 3

Contents № 3 2009
---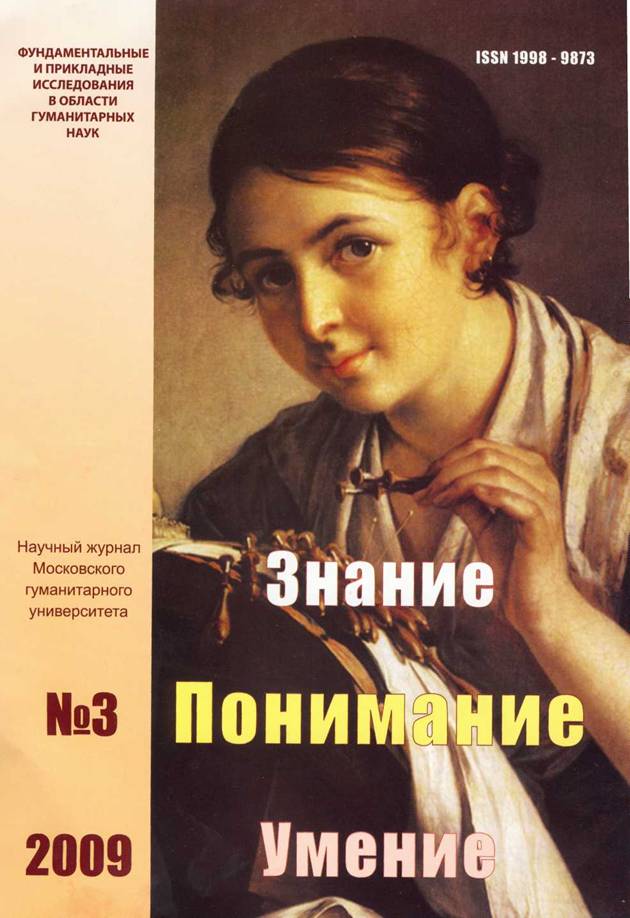 THE RUSSIAN SOCIETY
Ilinskiy I. M. On the Russian Nation
EDUCATION AND AN EDUCATED PERSON IN THE 21ST CENTURY
Ursul A. D. Educational Revolution of the XXI Century in the Long Term Sustainable Future (the ending)
Goncharov D. K. Sociology of Information and Communication Technologies Development: Web as a Platform of Modern Education 
HUMANITIES KNOWLEDGE: THEORY AND METHODOLOGY
Lukov Val. A. On Features of Interdisciplinarity (To Development of Youth Theories)
Mladenović M. (Serbia) On the Idea of Justice and Its Realization
Shapinskaia E. N. The Image of the Other in the Texts of Culture: the Policy of Representation (the beginning)
STATE AND CIVIL SOCIETY: POLITICS, ECONOMICS, LAW
Khakimov G. А. The Russian Modernization in the Light of World-System Concepts
Kanarsh G. Yu. Democracy and the Peculiarities of Russian National Character (to the Political and Psychological Aspects of the Image of Russia)
Shazhinbatyn A. Nationalism versus Cosmopolitism
Sharnauskene T. V. Precedents of Culture and Legal Modernization of Society

SOCIOLOGY AND LIFE
Vorobiev Y. L. Public Opinion in the System of Communicative Influence of Public Power Structures
Vybornova V. V., Sharifulina E. A. Social Interaction of Central Asian Labour Migrants with Host Society
Agranat D. L., Lobanov M. A. The Essence and Substance of Socialization of Young Internal Affairs Bodies' Officers
Tikhomirov D. A. Illegitimate Cohabitation in Moscow as a New Component of Matrimonial Behaviour of Youth
PROBLEMS OF PHILOLOGY, CULTUROLOGY AND ART STUDIES
Lukov Vl. A. Theoretical Conceptualization of Neo-romanticism: the Rostand's Academic Discourse
Zakharov N. V. The Origins of Shakespearianism in Russia: N. M. Karamzin, А. А. Petrov and J. M. R. Lenz
Kolesnikov A. G. Joseph Roth and Franz Lehár: Literary and Musical Links
Golovko V. M. Interpretative Potential of Literary Genre as a Problem of M. M. Bakhtin's Theoretical Poetics
Bolshakova A. Yu. History and Grotesque in Yuriy Poliakov's Prose
Kashliavik K. Yu. "The Life of Protopope Avvakum, Written by Himself" Through the Eyes of a Frenchman
Karimova E. S. The Motive of Prodigal Feast in St. Petersburg Stories by N. V. Gogol
Komarova E. A. Antithesis as Organizational Principle of Chronotopos in J.-K. Huysmans's Novel "Là-bas"
Zhuk M. I. The Conception of Human Existence in the Novel "A History of the World in 10½ Chapters" by Julian Barnes
Egorova L. V. The Sidney Psalter. Should "the History of the Metaphysical Revival" Be Rewritten?
Shalygina O. V. Anthropological Sense of the Art Rhythm
LINGUISTICS AND INTERCULTURAL COMMUNICATION

Moshniaga E. V. The Concept of Cultural Tourism within the System of Concepts of International Tourism
Gizatova G. K. Axiological Function of Phraseological Units in the English and Russian Languages

Shirina E. V. The Key Concepts of the Political Universum of Russian Democratic Publicists
PROBLEMS OF PEDAGOGY AND PSYCHOLOGY
Afanasieva A. B. Ethnocultural Education: Essence, Content Structure, Perfection Problems
Sharapov V. V. Actual Aspects of Research on the Volga Region Population's Positive Ethnic Identity, Intercultural and Interethnic Cooperation
Chabanova S. S. Teacher's Authority: Genesis of Pedagogical Approaches
Dzhiga N. D. Self-management and Self-modification of Student's Personality as a Factor of Development Success
Alekseeva E. E. Psychophysiological and Psychological Markers of Emotional Burnout of Students in Psychological and Pedagogical Disciplines
Revin S. N. Analogy Method in Ecological Education of Pupils (By the Example of a Manned Space Station)
THE RUSSIAN WORLD
Svalov A. N. Nikolai Stankevich's Philosophy of Love
RELIGION, CULTURE, EDUCATION
Miakisheva E. V. Codes of Culture in Aesthetic Sphere of Person (According the Data of the Russian Language)
Shaiakhmetova A. K. To the Question of Musical Aesthetics of the Koran
SCIENTIFIC POTENTIAL (WORKS OF YOUNG SCHOLARS)
Ivanov A. N. Constants of the Swedish Culture in the Light of the Thesaurus Approach
Surnina V. V. Establishment of Tourist Education in Russia in the Second Half of the XIX — the First Half of the XX Centuries
Kabanov A. A. Female Icon in the Decadence Art
Bizeev A. Yu. The Notion "Transitivity" in the Contemporary Researches on Sociocultural Processes: A. S. Akhiezer's Conception
Tkachenko A. S. Innovative Capacity of Administrator of Social Security Institution
REVIEWS AND ANNOTATIONS
Portnov V. V. On the book "Roots and Wings" by I. M. Ilinskiy
Abaev N. V., Khomushko O. M. Tuva between Past and Future
Ishchenko Yu. A. Reflections on Book