Main page / "Knowledge. Understanding. Skill" Journal / Contents / 2007 / No. 1

Contents №1 2007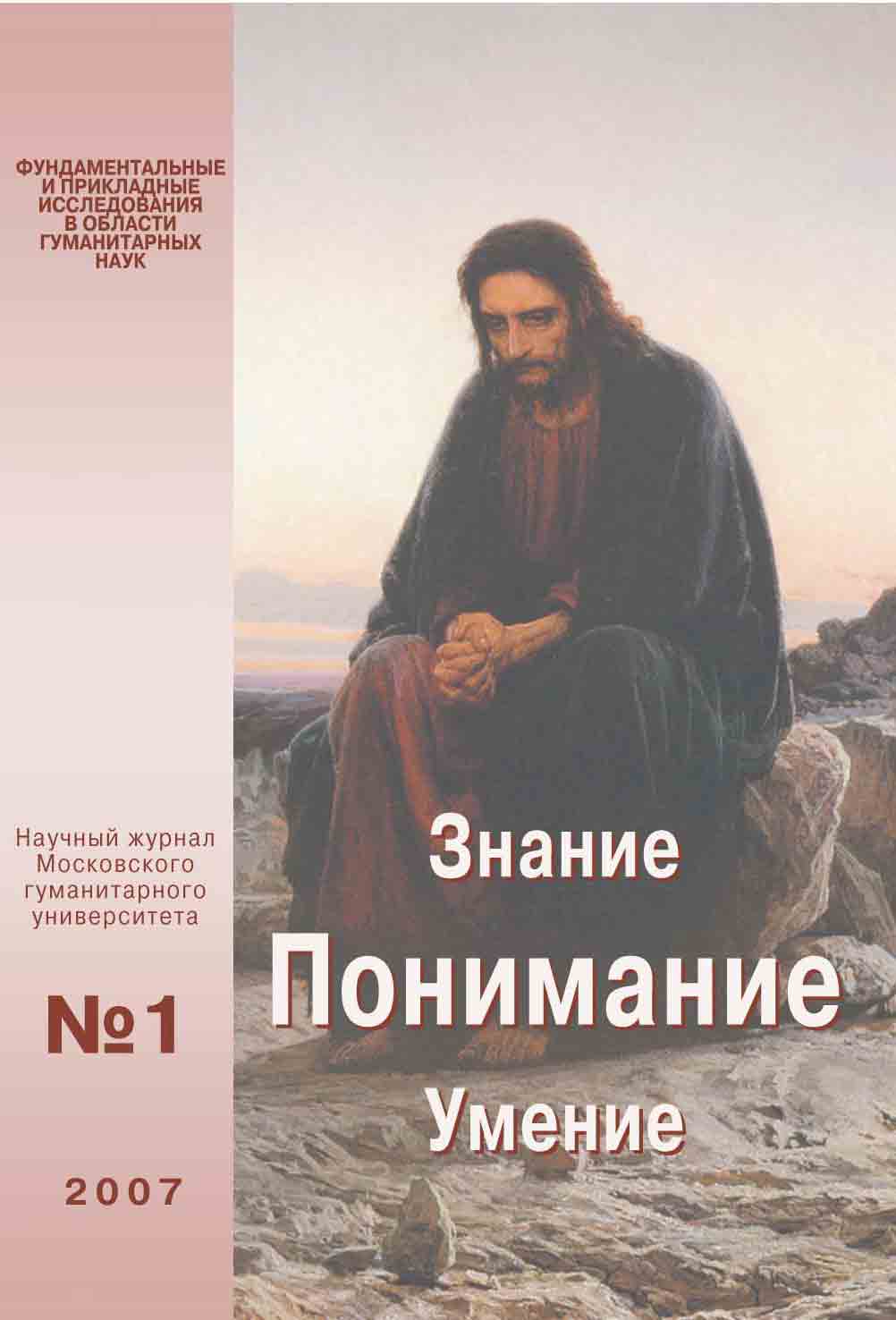 Ilinskiy I. M. To the Readers of "Knowledge. Understanding. Skill" Journal


RUSSIAN SOCIETY

Ilinskiy I. M. The Past Corrects the Future


INTEGRATION OF SCIENCE AND HIGHER EDUCATION

Sagitov R. V., Kamaldinova E. Sh. Before the Entrance to Auditorium

Kalinnikova N. G. Oriented-on-person Technologies in the Theory and Practice of Pedagogical Education

Minevich J. V. Social Projection as a Stimulation of Students' Socialization Technology

THE HUMANITIES: THEORY AND METHODOLOGY

Lapin N. I. Societal and Value Functions of Intelligentsia

Mezhuev V. M. Socialism - Space of Culture (the ending)

Kuznetsova T. F. Transitivity as a Parameter of Historical Method Principle

Ivakhnenko E. N., Attaeva L. I. Adventure of Non-articulated Intellect


RELIGION, CULTURE, EDUCATION

Toshchenko J. T. About the Ratio of Secular and Religious Education

Lebedev S. D. Secular School and Reproduction of Religiosity in the Secular Society

Tuzov N. V. Ethnic and Religious Factors in the Internal Policy of Russia at the Turn of Centuries (the beginning)

Abaev N. V. Buddhism and Christianity in the Historical and Cultural Space of Russia – Eurasia

Kartashov P. B. Charles Peguy's Christcentredness

Kirsberg I. V. Jews' Consciousness from the Bible to the Talmud

Laitman M. S. (Israel) Kabbala and Modern World Picture


PROBLEMS OF UNDERSTANDING

Spirova E. M. Sign or Symbol?

Svinina Т . М . Personified and Non-personified Training

Shulaeva M. V. Sense Conductor


PROBLEMS OF PHILOLOGY, CULTUROLOGY AND ART STUDIES

Lukov Val. A., Lukov VI. A. Russia and Europe: the Dialogue of the Cultures in the Mutual Reflections of the Literatures

Zakharov N. V. Shakespeare's Appearance in the Russian Cultural Thesaurus

Saveliev K. N. New Approaches in the Comprehension of the Concept «Decadence»

Chikiris A. G. Aesthetic Dependence in the Experience of Cinematography

Sainbaiar V. (Mongolia) Foreign Language Vocabulary in the Travel Notes of the Peter the Great Epoch

Glad'ko A. Does Russia Need a Public TV?

HUMAN POTENTIAL

Fedotova V. G. Human Capital, Personal Modernization and the Problem of Human Development (the beginning)

Rozenova M. I. Love, Education and Health of Nation

Pristupa E. N. Child Health as a Social Value


MONITORING

Burmakova J. A. Professionally Important Qualities of Specialists in Advertising Activity


THE IMAGE OF THE SCIENTIST (CREATIVE PORTRAITS)



Andrey Borisovich Tarasov: «In the Searching of Ideal» (prepared by Ch. K. Dargyn-ool)


WORKS OF YOUNG SCHOLARS

Papanov A. I. The Impact of Sport and Tourist Activity on the Formation of Teenagers' Readiness for Responsible Interaction

Niazashvili A. G. Development of Managers' Aspiration for Success under Conditions of Economical Risks

Smirnov Yu. A. Life Style and Personal Anxiety


THE ENCYCLOPEDIA OF THE HUMANITIES

Spiritual and Historical School in Literary Criticism (Markova D. A.)


ANALYTICS AND SCIENTIFIC PROJECTION

Timofeeva N. I. The Peculiarities of Scientific Projection under Conditions of a Higher Education Institute


REVIEWS AND ANNOTATIONS

Zakharov N. V. The Thesaurus Analysis of Pre-Romanticism

Gaydin B. N. L. N. Tolstoy's Characters of Just Men


ACADEMIC LIFE OF THE UNIVERSITY

International Conferences "Higher Education for the XXI Century": the First Results (Vl. A. Lukov)


URGENT QUESTION

Riabchikov V. V. The Educational Aspects of Political Co-operation

Gurevich P. S. To the Debate on Religion

THE AUTHORS